There's always that one TV show that can stand alone no matter the network. Such shows provide their viewers with ultimate laughter on end, great storylines, and dramatic turns. However, fans always crave for a good old crossover with other similar shows.
Various showrunners have made viewers' wishes come true on some occasions. The Grey's Anatomy and Station 19 crossovers, for example, had fans yearning for the next crossover event. Although crossovers are suitable for providing much-needed background to individual storylines, some don't need to happen.
Shows in the Chicago One universe, for example, do well on their own despite the frequent crossovers. However, facilitating a crossover between two shows in two different universes can make for lousy television. Read on to find out why a crossover between Chicago P.D. and Blue Bloods wouldn't work out.
'Chicago P.D.'s characters are known for coloring outside the lines a little bit
Chicago P.D. is a third of the Chicago One universe. The show follows a group of police officers as they work to solve crimes. Chicago P.D. is set in Chicago's 21st District and centers around the daily proceedings of the officers of the elite Intelligence Unit headed by Detective Sergeant Hank Voight.
Voight is known for using extreme measures to get his way and punish criminals. While bending the rules has worked out well for him in the past, the team leader is set to experience some significant changes. The series storyline also involves the relationships between and among the members of the Intelligence Unit.
Among the team's fan-favorite couples includes Kim Burgess and her on-again-off-again partner Adam Ruzek. Detective Atwater is also part of the storyline. In the new season, fans will get to see how Atwater deals with workplace and systemic racism. Fans will also get to see how Atwater works to bring down the 'blue wall' while finding a new love interest after Rojas' exit.
'Blue Bloods' centers around a family of law enforcement officers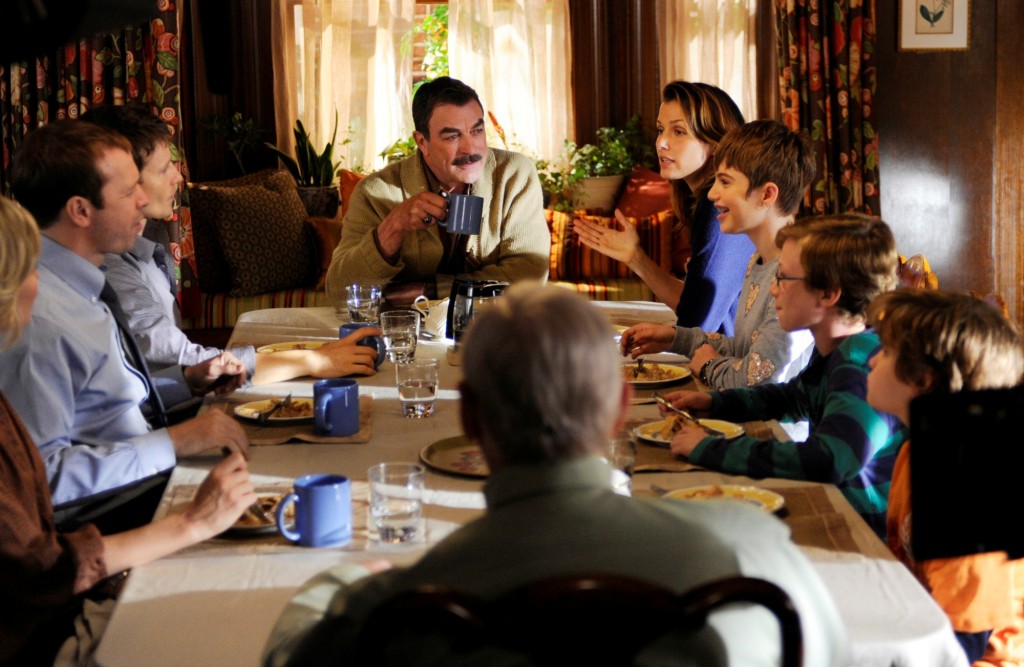 Blue Bloods centers on the life of a fictional family with a history of law enforcement. The Reagan family patriarch Frank Reagan is the police commissioner. His children are also in law enforcement. One is a detective, another an NYPD sergeant, and another an assistant district attorney.
The show weaves together every family member's professional life to show how they all relate. Although the series follows the Reagan family, it also focuses on the characters' personal and professional relationships, including those in the workplace. The family is Irish Catholic and usually gather every Sunday for a family dinner.
A crossover between 'Blue Bloods' and 'Chicago PD' is unnecessary and won't work out
Chicago P.D. has had crossovers with the shows in the Chicago One universe before. For instance, the show has had crossovers with Chicago Med and Chicago Fire. This has been an easy feat to pull for the showrunners since they have an almost similar storyline and are from the same universe. The shows have also crossed over with Law and Order: SVU and FBI, as they all exist in Dick Wolf's law enforcement universe.
Although a Blue Bloods and Chicago P.D. crossover might seem like an exciting piece of news, it might not make sense. This is because the two shows are set in two different universes. Another issue is how the two units do their work.
Having the Reagans and the Chicago P.D. Intelligence Unity put together would be absolute chaos. Frank will find himself unable to control the Intelligence Unit (Voight) and vice versa. In Blue Bloods, Frank might color outside the lines once in a while, but this is a usual occurrence for Voight and his team, which goes against Frank's moral conduct.
Additionally, the show's creative and production teams are different. The two shows are also on different networks, and likely don't exist in the same cinematic universe. This ultimately means that getting a crossover to happen would need a lot of creativity.
Related News – Be sure to get some more news when it comes to BLUE BLOODS.