NCIS fans may have to say a tearful farewell to Torres after the actor hinted at a possible sh0ot when the show returns later this year.
NCIS, CBS's long-running procedural drama, will return in September with a much-anticipated crossover with its recent spin-off series NCIS Hawaii. Agent Nick Torres (Wilmer Valderrama) will travel to the island in this special episode, and after a major clue, fans believe he will be k1lled after a fatal sh0oting.
Throughout season 19, fans speculated that Torres' time as an NCIS agent was coming to an end.
This was first hinted at in the episode titled 'Fight or Flight,' in which he isolated himself from socializing by pushing his friends away.
"We spend all day together at work, do we have to spend every second of our lives together, too?" he said after Jessica Knight (Katrina Law) asked what his plans were after he blew off drinks with her.
This was an odd admission given that the two had been friends for a long time.
Torres then agreed to go on an undercover mission for a cage fighting case, revealing that he was struggling with his mental health.
When he was unexpectedly paired with someone bigger than him, the agent agreed to fight, but the fight became so brutal that Alden Parker (Gary Cole) was forced to intervene.
Torres responded to Timothy McGee's (Sean Murray) remark, "It looks like you're trying to get yourself k1lled." "Who cares anymore, man?"
When McGee said, "Me," Torres responded, "Yeah, until you don't," prompting him to ask, "Where am I going?" "I have no plans to leave."
Torres' abandonment issues became clear when he replied, "I don't know man, but you already have a family." You don't require my assistance."
When Eleanor Bishop (Emily Wickersham) left after they finally shared their first kiss, the fan favorite agent had to say heartbreaking goodbyes.
Then there was the unexpected departure of Gibbs (Mark Harmon), whom he looked up to like a father.
With his mental health issues, he may volunteer to work at Jane Tennant's (Vanessa Lachey) Hawaii base, but a sh0oting there could result in his d3ath.
A behind-the-scenes interview with Lachey and Valderrama, which was posted on the network's Instagram page, hinted at the sh0ot.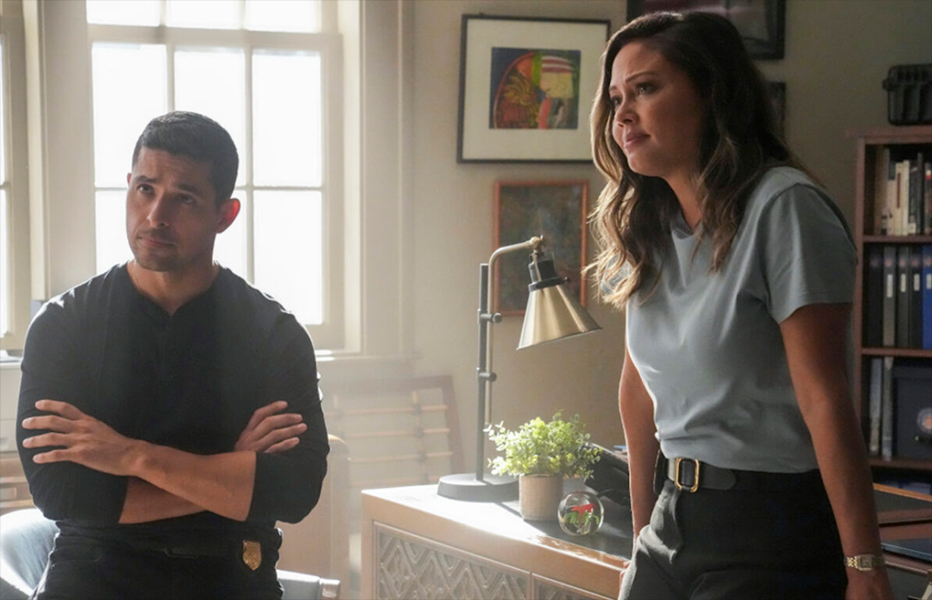 During the clip, the stars were in Hawaii discussing the next installment.
Valderamma remarked as they stood on the beach, "This is the most beautiful place I've ever been shot at."
Despite the fact that the actor revealed his character would be the target of a sh0oting, fans will have to wait until season 20 to see if he is k1lled by a bullet.
After showrunner Steven D. Binder confirmed that season 20 will be dark for Toress, things will undoubtedly take a turn for the worse.
"I think we're going to go pretty dark with [Torres]," he told TV Insider.
"We try to do it in a way that doesn't ruin what we love about the character, so it's always in service to something bigger." It isn't just complete darkness."
Fortunately for fans, NCIS and NCIS Hawaii have been confirmed to return to television screens later this year.
Related News – Be sure to get some more news when it comes to NCIS.