Season 18 of NCIS has been a rough one for fans. They've already endured two shocking and tragic character deaths. They've also had to say goodbye to a beloved member of the team, Jack Sloane (Maria Bello).
What's more, there's the indefinite suspension of team leader Leroy Jethro Gibbs (Mark Harmon), and the rumors that Harmon could be leaving.
Now, it appears that fans may have another thing to worry about. Did a new Instagram post just reveal that David McCallum's Dr. Donald "Ducky" Mallard won't survive season 18?
David McCallum is one of two OG 'NCIS' cast members still on the show
NCIS began back in 2003 via a backdoor pilot in the parent series, JAG. That fall, CBS premiered with an original cast that featured Harmon, McCallum, Sasha Alexander (Kate Todd), Michael Weatherly (Anthony DiNozzo), and Pauley Perrette (Abby Sciuto).
Eighteen years later, Harmon and McCallum are the only OG cast members remaining. Alexander left after season 2, Weatherly after season 13, and Perette after season 15.
As for star Sean Murray (Timothy McGee), he first appeared as a recurring character in season 1. He didn't become a regular cast member until season 2. Murray's character is currently the senior agent on Gibbs' team.
An Instagram post from Wilmer Valderrama has fans talking
Murray recently revealed on Instagram that the cast and crew of NCIS was filming the season 18 finale. A few days later, Murray's co-star Wilmer Valderrama (Torres) posted two cast photos from the set.
In the caption Valderrama wrote, "Speaking of starting lineups..we are on the homestretch for our season finale. (that's all I'm allowed to say)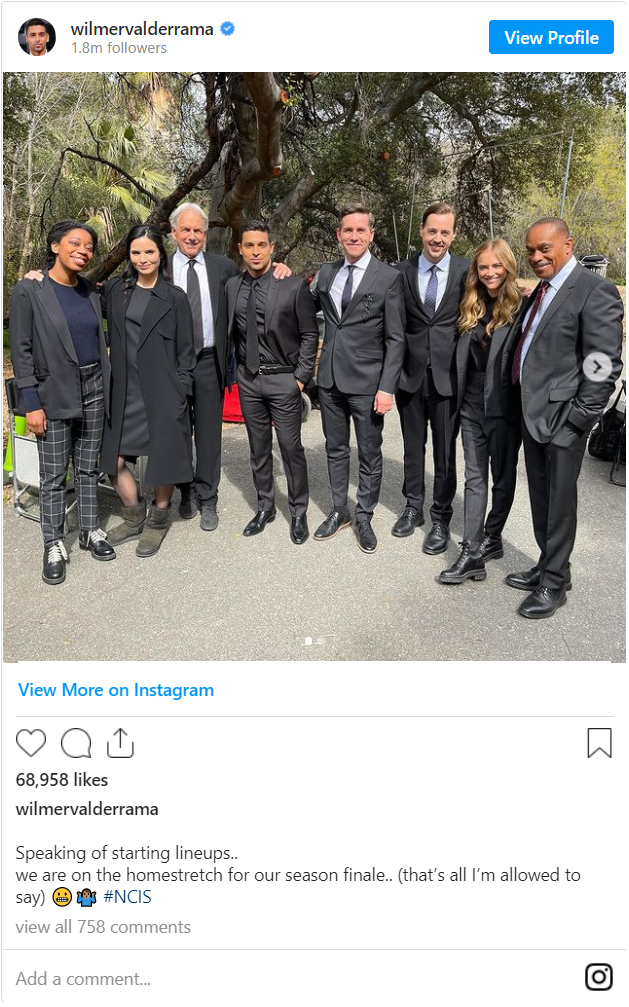 While the actor's caption did have fans talking about what could be coming in the season finale, it was the images that really got their attention.
The 'NCIS' cast is dressed in black
In the photos, Valderrama, Harmon, and Murray posed with cast members Rocky Carroll (Leon Vance), Brian Dietzen (Jimmy Palmer), Diona Reasonover (Kasie Hines), and Emily Wickersham (Eleanor Bishop).
Also in the picture was guest star Katrina Law, who will play NCIS REACT Special Agent Jessica Knight. Everyone in the photo was dressed in black, and there was one cast member noticeably missing – David McCallum.
Immediately, fans started asking if they were filming a funeral scene. Specifically, they wondered if all of the characters were attending Ducky's funeral.
David McCallum reduced his role in 2019
While McCallum is still considered part of the cast, he did reduce his role on NCIS back in 2019. After years as the Chief Medical Examiner, Ducky hung up his lab coat and turned over his role to his assistant, Jimmy Palmer.
McCallum remained an integral part of NCIS as the organization's part-time historian. Still, the change meant fewer episodes for McCallum with a limited schedule. For the past few years, the 87-year-old has signed single season contracts and has renewed them annually.
Will 'NCIS' say goodbye to both Ducky and Gibbs in season 18?
CBS has yet to renew NCIS for season 19, and fans are starting to wonder if this could be it for the network drama. Rumors are swirling that Harmon is ready to say goodbye. Now, with Valderrama's Instagram photos, fans are starting to wonder if McCallum could be calling it quits, too.
This is all still speculation at this point. However, those photos are quite convincing and really do look like the cast is at a funeral. This means fans could end up saying goodbye to at least one other character before season 18 comes to a close.
There's no guarantee, though, that it's Ducky's funeral they are attending. It could be Gibbs' close friend FBI agent Tobias Fornell (Joe Spano). Or, it's possible they aren't at a funeral at all. Fans will just have to wait and see.
Related News – Be sure to get some more news when it comes to NCIS.