NCIS: LOS ANGELES star Eric Christian Olsen and wife Sarah Wright Olsen have welcomed their adorable baby daughter to the world – and announced her name in a heartwarming first snap from their home.
Eric Christian Olsen and his wife Sarah Wright Olsen announced earlier this year the pair were expecting their third child. The NCIS: LA stalwart did so over the weekend after sending fans into meltdown last month by explaining they were expecting a baby girl. And now, Olsen has taken to his Instagram page to share the first photo of his wife and newborn from their home after returning from the hospital.
Olsen – who's best known for playing Marty Deeks in the CBS crime drama – penned a lengthy message in honour of his wife and newborn daughter to his 513k followers.
In the photo, Olsen's wife Sarah beams as she hugs onto their other daughter Esme and breastfeeds the tot.
Sarah had previously announced their daughter's name on her own page but this was the first time the NCIS: LA had addressed his fans with the news.
He began: "As we collectively navigate the chaos and existential crisis that is 2020, we anchor ourselves with the things that matter most."
Olsen continued: "Family, friends and human connection.
"Winter Story Olsen came to us Sept 15th. She's 10lbs 4 ounces of newborn bliss.
"Mama and baby are doing great, home safe surrounded by a cuddle puddle of kids and giant dogs.
"Life is equal parts spectacular and fleeting; We have an obligation to the world and to ourselves to push through fear, apathy and self preservation and LOVE FEARLESSLY."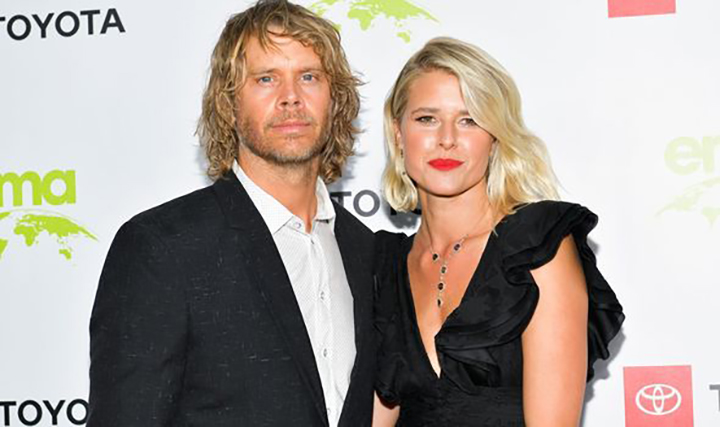 Inevitably, it didn't take long for Olsen's fans and colleagues to send their well wishes upon seeing the sweet snap.
Nell Jones star Renee Felice Smith replied with a series of flashing star emojis.
Daniele Ruah – who plays Kensi Blye – took to Sarah's page to comment: "So much love for this family."
"Sending you and @ericcolsen so much love," added NCIS star Wilmer Valderrama to Sarah's post.
Fans similarly weighed in as one echoed: "Congratulations so glad everyone is safe and healthy."
"So beautiful!! Congratulations on your little bundle of joy and growing family," echoed a second.
Another wrote: "Congratulations to you both, you are a lovely family and you deserve all the joy and happiness that comes your way beautiful people."
While a fourth commented: "This family gets more beautiful and brighter every day."
NCIS: LA fans will get to see more of Olsen when the series returns for its 12th season later this year.
Olsen confirmed he had returned to filming earlier this month in a selfie with co-star Ruah.
However, CBS is still yet to announce an exact premiere date for the new season.
Related News – Be sure to get some more news when it comes to NCIS.