NCIS season 18 won't be back on screens until March 2, 2021, but it hasn't stopped fans from predicting what's in store as they prepare to bid farewell to Jack Sloane.
Jack Sloane (played by Maria Bello) is now just moments away from bowing out of NCIS for good following the actor's decision to leave the CBS series prior to season 18. And her final instalment, titled True Believer, will hopefully tie up all the loose ends surrounding her and Gibbs's (Mark Harmon) will-they-won't-they romance. 
Now, thanks to a handful of promo images from the episode, could a snap involving Nick Torres (Wilmer Valderrama) hint at the outcome Slibbs fans everywhere are rooting for?
So far, all NCIS fans have to go off to predict what will happen in Sloane's farewell episode is a short synopsis and handful of promo pictures.
The synopsis from CBS reads: "When Sloane's name is discovered in Afghanistan at the site of an abandoned bus with a dead driver, Gibbs accompanies her on a trip to find a group of girls who were kidnapped from the bus.
"Also, McGee (Sean Murray), Bishop (Emily Wickersham) and Torres track down a hacker who emailed compromising information to the Taliban, on NCIS."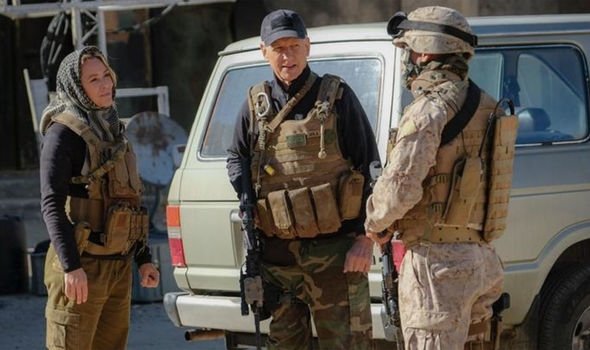 So fans know Sloane and Gibbs will be spending plenty of time together as they jet to Afghanistan in her final episode.
However, a dangerous trip overseas hardly hints at the romantic conclusion fans are anticipating.
Fans do get a peek at Gibbs and Sloane in Afghanistan in one of the promo shots as well, with the two decked head to toe in camouflaged protective gear.
But it's a picture involving Torres, Bishop and McGee which hints viewers may get the Slibbs kiss they want.
In a separate promo snap, the trio are shown inside the NCIS team's office.
All three have their eyes locked on something out of shot, with both Bishop and McGee open-mouthed in anticipation.
Torres, on the other hand, has his fingers crossed, seemingly excited about what he and his colleagues are witnessing.
In the latest season 18 theory, could it be the three are finally watching Gibbs make his move on the forensic psychologist?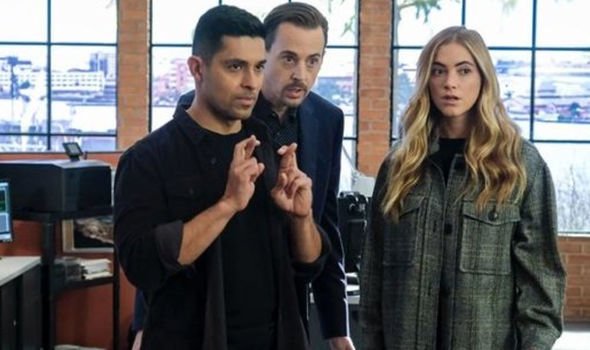 After spending time in Afghanistan together, they may have returned to the office to pack up Sloane's things.
And given the fact their colleagues have been rooting for them to get together for years now, could their excitement be explained by watching Sloane and Gibbs finally kiss?
It's hard to imagine what else could be piquing all three of their attention so much.
Given Bishop, Torres and McGee's faces and reactions as well, it would have to be a monumental scenario unfolding in front of them for them all to react this way.
If this were to be the case, it'd certainly be a bittersweet outcome as a long term romance between Gibbs and Sloane would be rendered almost impossible with the latter exiting the series.
Although exactly how and why Sloane will be saying her goodbyes continue to have fans scratching their heads.
Theories have ranged from Sloane staying in Afghanistan to pursue a new career, to a reunion with daughter Faith (Kate Hamilton).
But NCIS fans will just have to tune into episode eight to find out for sure.
Related News – Be sure to get some more news when it comes to NCIS.