Because of the lack of new episodes, rumors of NCIS: Los Angeles being canceled have become more prevalent on social media.
It didn't help that star Eric Christian Olsen (who plays Deeks) hinted on social media that this would be the final season of NCIS: LA.
Due to NFL action, a double feature of Sunday night episodes was recently postponed, causing some confusion among fans about when the show might return.
At the moment, we're all waiting to see when the next new episode of NCIS: Los Angeles will air on CBS this season.
NCIS: Los Angeles has been canceled. Examining a cast member's remark
Eric Christian Olsen posted a brief message on Instagram with a photo of his character looking very serious, announcing the return of NCIS: LA after a winter hiatus. The team traveled to Mexico to find Kensi, which resulted in some dramatic scenes.
"We're about to get back into it," Olsen said in his message.
The hashtags have piqued the interest of NCIS: LA fans, however, because one of them reads "thefinalseason," implying that the show is coming to an end.
Fans of NCIS: Los Angeles react to Eric Christian Olsen's post.
Many NCIS: Los Angeles fans have expressed their dismay in the comments section of Olsen's post, which is understandable. CBS hasn't made any announcements about NCIS: LA Season 13 being the final one, so this would be the first real piece of information about the show's future.
Some fans expressed their disappointment that NCIS: Los Angeles Season 14 would not be renewed, while others simply expressed their love for the show.
"Noooo way, say it ain't so!" one fan commented
"This can't be the final season…. Please… No…no…no…no…no… It simply cannot be. My husband and I watch and record every episode. "Oh my," wrote another fan.
"Boooo DO NOT CANCEL THIS," a third fan wrote.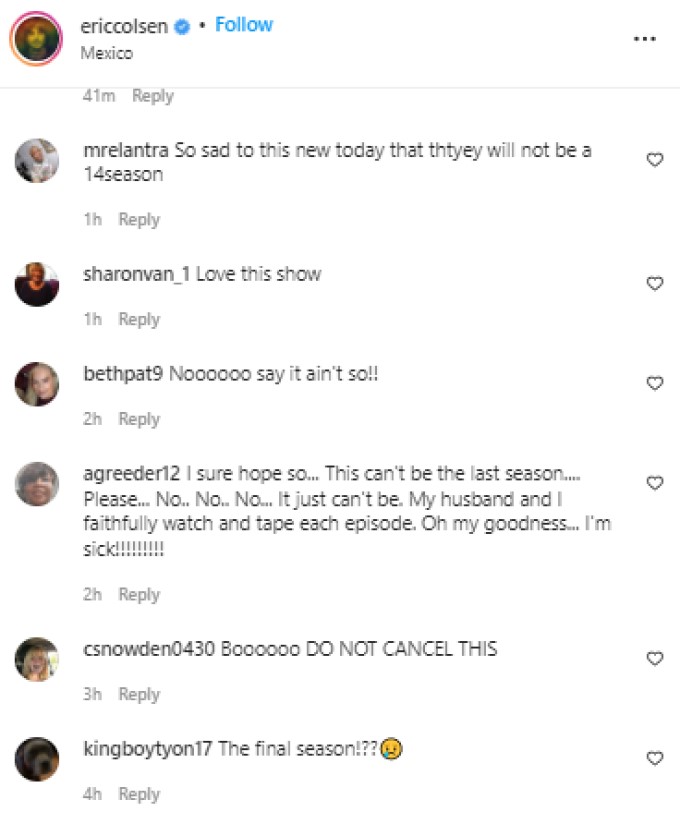 Will there be a 14th season of NCIS: Los Angeles?
It's still early in the television season's renewal and cancellation phase, which means that NCIS: LA fans can still hope that Season 14 will be renewed soon.
At the same time, it's becoming concerning that the show's episodes are constantly being bumped due to football games and special events on Sunday nights that CBS schedules in those primetime timeslots.
If NCIS: LA Season 13 does end up being the show's final season, the cast and crew should be given enough time to properly wrap things up. That would necessitate the return of Hetty Lange (played by Linda Hunt) for a few key episodes this spring.
There is also the possibility that past NCIS: LA cast members will return for an episode or two before the show is officially retired. Seeing Eric Beale and Nell Jones come through to assist on an important case could be a wonderful treat for fans who have stuck with the show for all these years.
Related News – Be sure to get some more news when it comes to NCIS.