Eric Christian Olsen, star of NCIS: Los Angeles, had a "proud papa" moment. He decides to help his children have fun by renting a sled.
Thanks to his wife, Sarah Wright, Olsen, who plays Marty Deeks on the CBS cr1me drama, gets some screen time.
Take a look at what this family outing becomes as a result of an Instagram post.
Oh, the NCIS: Los Angeles star's wife adds a nice touch by overlaying Dean Martin's version of "Let It Snow."
This sweet video elicited a strong reaction from fans.
Fans of 'NCIS: Los Angeles' Share Their Thoughts on Olsen's Video
"Great video here," one of them writes. You and Eric are wonderful parents to your precious angels. I hope everyone is having a wonderful day. My friend, stay healthy, happy, and have a good day. "With Regards."
And here's another sweet reaction to the NCIS: Los Angeles star's video: "I am kinda jelly cause you have snow and I don't." Ben has been raining on and off in Ohio, and what a wonderful father @ericcolsen is. My father used to do the same thing with us when we were kids, and when we grew up and he couldn't pull us any longer, he'd hook up all the sleds to a golf cart or four wheeler and drag us around our yard and our grandparents' yard."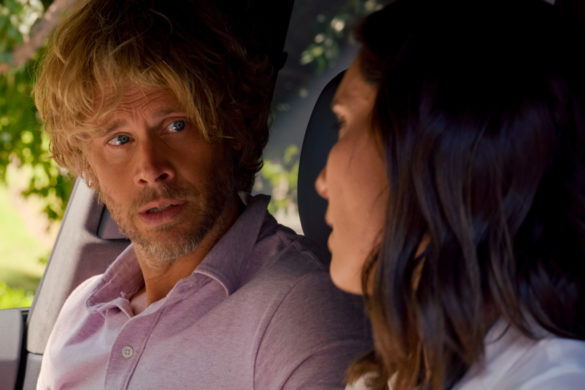 There will be no new episodes on CBS this Sunday night. You can, however, set a reminder for Christmas Eve at 9 p.m. Eastern/8 p.m. Central. The following is a synopsis from the rerun episode If the Fates Allow: "Before Christmas, Hetty assigns Callen the case of his former foster brother and his wife, who are framed for smuggling drugs across the border upon their reentry into the United States; Deeks is dealing with the loss of his job at NCIS."
Linda Hunt's character Hetty Lange is referred to as Hetty. G. Callen, played by Chris O'Donnell, is referred to as Callen.
Actor Matty Deeks Explains Why Acting in a Show Is 'Difficult'
When it comes to writing episodes for NCIS: Los Angeles, Olsen has limited experience.
He mentioned how difficult it can be to act on the show.
The episode that Olsen wrote for NCIS: Los Angeles was titled Mother.
What is it that he finds difficult? Olsen discussed working on the episode with Matt and Jess.
"Our shows can be challenging," Olsen admitted in 2019. "It is difficult to act on exposure and procedural logistics." So we gave (Hunt) these great character-driven acting scenes with incredible stakes based on decisions she made in the past."
Related News – Be sure to get some more news when it comes to NCIS.