Caleb Castille and Medalion Rahimi, who play Devin Roundtree and Fatima Namazi on the CBS drama NCIS: Los Angeles, have been sharing some behind-the-scenes footage from season 13.
The 13th season of NCIS Los Angeles is now in full swing on CBS, with the drama pouring in for characters like Marty Deeks (Eric Christian Olsen), Kensi Blye (Daniela Ruah), and G Callen (Chris O'Donnell). And if new filming sneak peeks from Caleb Castille and Medallion Rahimi are any indication, the action isn't slowing down anytime soon. But that's not all; the Devin Roundtree star has also confirmed that a familiar face will be joining the team.
NCIS LA has returned from its winter hiatus stronger than ever with episode 11, titled All the Little Things, with the next installment premiering on CBS on March 11.
In the next episode, Kensi and Deeks' desire for a family is likely to be revisited after they discover an abandoned child on board a Navy ship, and former series regular Nate Getz makes a return (Peter Cambor).
Anna (Bar Paly) will also make a surprise return to reunite with Callen following the expl0sive scenes in season 12 that saw her kidnapped, rescued, and the couple's romance in shambles.
Beyond that, NCIS LA isn't done bringing back familiar faces, as Castille confirmed on Instagram that Vostanik Sabatino star Erik Palladino would be making a return.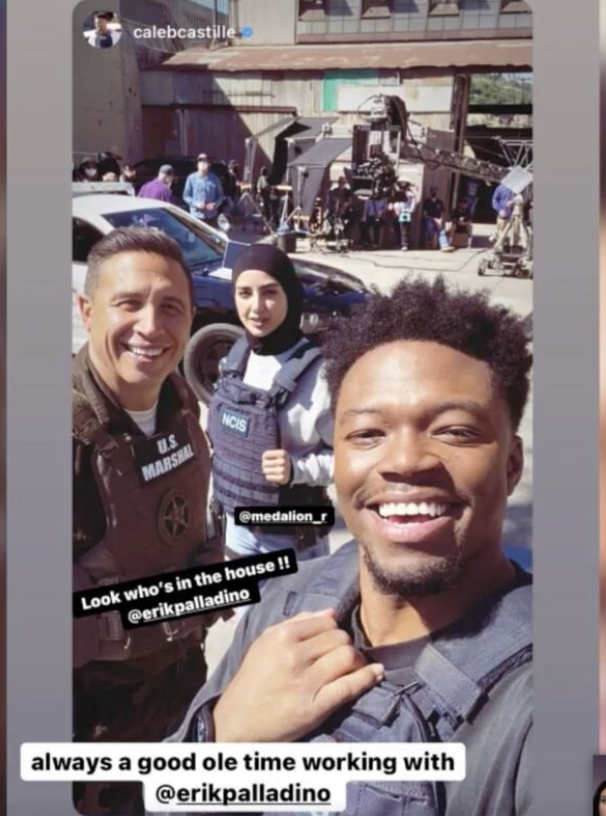 The announcement was made on social media by Castille's co-star Rahimi, who shared a series of behind-the-scenes photos from filming with the Devin actor.
Rahimi captured the crew filming Castille sprinting out of a building in the first footage.
"@calebcastille they're definitely putting this in slow-mo @ncisla," she jokingly captioned the video.
In a subsequent clip, Castille demonstrated his running abilities once more, prompting Rahimi to remark, "@calebcastille those football skills come in handy on this show." (Sic)
However, Roundtree appears to be in for some bone-crushing action in a third clip, as the character is seen wrestling with a suspect on the ground.
Fortunately, it appears that Roundtree will get his man, as Castille can be seen placing handcuffs on the suspect.
Rahimi and Castille then shared a behind-the-scenes selfie with none other than Palladino.
"Look who's in the house @erikpalladino," Castille said, while Rahimi added, "Always a good ole time working with @erikpalladino."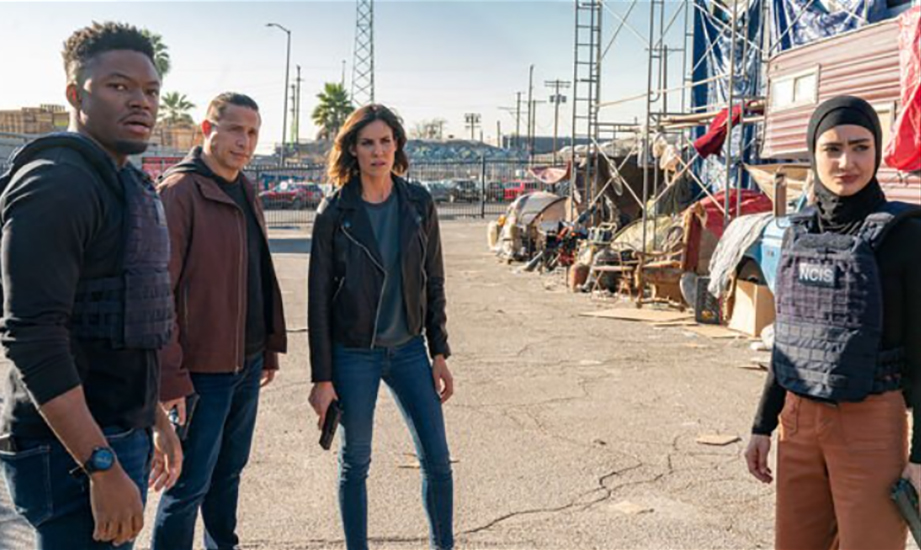 Palladino's character Vostanik has had his fair share of gripping storylines on NCIS LA over the years, from attempting to bring the team down to collaborating with them to find Anna.
His most recent appearance was in season 12, episode nine, A Fait Accomplished.
While details on his exact return date and episode remain unknown for the time being, Palladino has been teasing his return on his own Instagram page.
Palladino stopped for an on-set selfie with Sam Hannah star LL Cool J, who was dressed head to toe in armour.
"It's always a pleasure working with @llcoolj," he started. "I can't believe Sabatino has been taking up space on @ncisla for 9 years."
But what exactly could the pair be preparing for?
Palladino's armoured vest says "US Marshall" on the front, implying that the team-up with the NCIS team will face formidable opposition.
Related News – Be sure to get some more news when it comes to NCIS.