NCIS is close to wrapping season 18, and fans are worried about the fate of two beloved characters. Both Mark Harmon (Leroy Jethro Gibbs) and David McCallum (Dr. Donald "Ducky" Mallard) have starred on the CBS procedural since the series premiere in 2003.
Is it possible that both characters will say goodbye this season?
'NCIS' star Mark Harmon is reportedly 'ready to leave'
In February, rumors started to swirl that Harmon was "ready to leave" NCIS thanks to a story from The Hollywood Reporter. With the 69-year-old actor's contract up at the end of season 18, insiders claimed that CBS would end NCIS if he called it quits.
However, when Harmon heard that was the plan, he reportedly began conversations with the network and producers at CBS Studios to return for a handful of episodes if they renewed the series for season 19.
The network has not made an announcement about the fate of the popular series. It's also still unclear if Harmon will sign a new contract for season 19, if there is one.
Gibbs has been suspended 'indefinitely'
The rumors of Harmon's possible exit heated up after the March 16 episode titled "Watchdog." In that episode, Gibbs was taken away in handcuffs and suspended "indefinitely" after using excessive force against a suspect during an interrogation.
When the series returns with a new episode on April 6, fans will get to see what's going on with Gibbs after his suspension. They will also get to see the NCIS team operate without Gibbs at the helm.
The dark turn of Gibbs' storyline has many convinced that the CBS procedural is setting things up for his departure. Another sign that Harmon could be on his way out is that his wife of nearly 35 years, Pam Dawber, is making an appearance on NCIS for the very first time in 18 seasons.
'NCIS' star Wilmer Valderrama's Instagram post has fans worried about Ducky
Amid the rumors of Harmon's possible exit, NCIS star Wilmer Valderrama (Torres) shared a cryptic post on Instagram that now has fans worried that McCallum's character won't survive season 18. Valderrama posted two cast photos from the set taken during filming of the season finale.
In the caption Valderrama wrote, "Speaking of starting lineups..we are on the homestretch for our season finale. (that's all I'm allowed to say).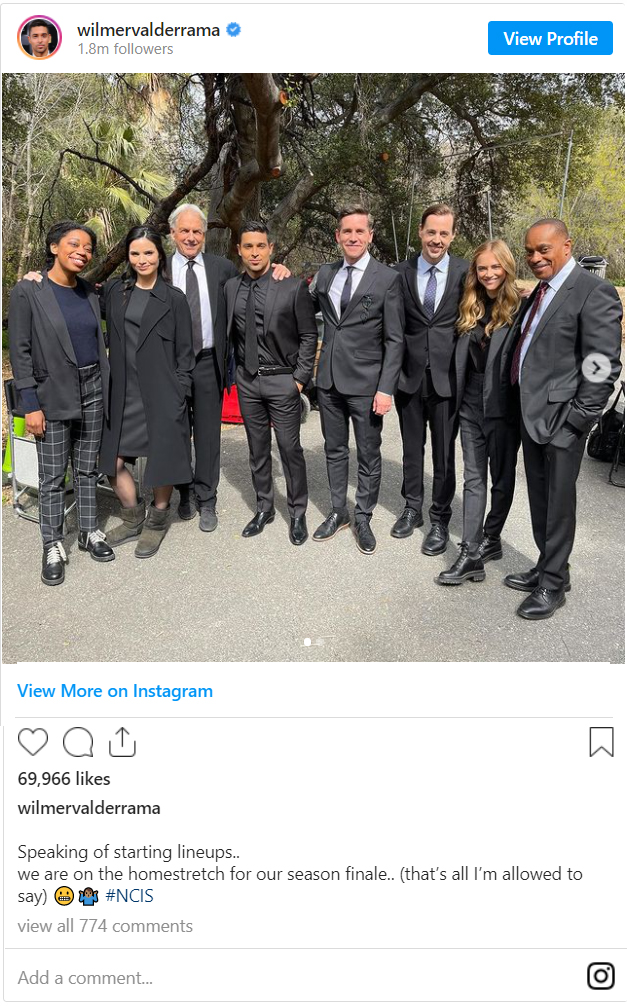 In the pics, Valderrama, Harmon, and Murray posed with cast members Rocky Carroll (Leon Vance), Brian Dietzen (Jimmy Palmer), Diona Reasonover (Kasie Hines), and Emily Wickersham (Eleanor Bishop).
Also in the picture was guest star Katrina Law, who will play NCIS REACT Special Agent Jessica Knight. Everyone in the photo was dressed in black, and there was one cast member noticeably missing – David McCallum.
Were the pics from Ducky's funeral?
Immediately, fans started asking if they were filming a funeral scene. Specifically, they wondered if all of the characters were attending Ducky's funeral.
"Where's ducky??" asked one concerned fan. Another added, "I do not like all the black clothes I'm seeing… Who died?"
The comments didn't stop there. A third wrote that they were "a little afraid of the season finale." While a fourth fan noted, "Can't be good if y'all are in all black all dressed up."
It's possible that Valderrama was just teasing fans with the pics. But, fans should be prepared for a shocker in the season 18 finale.
The 'NCIS' star has already reduced his role
While McCallum is still considered part of the main cast, he did reduce his role on NCIS back in 2019. After years as the Chief Medical Examiner, Ducky hung up his lab coat and turned over his role to his assistant, Jimmy Palmer.
McCallum's character has remained an integral part of NCIS as the organization's part-time historian. But, the change has meant fewer episodes for McCallum with a limited schedule. For the past few years, the 87-year-old has signed single season contracts. It's very possible that he's ready to call it quits, just like Harmon.
Fans will have to wait and see what happens.
Related News – Be sure to get some more news when it comes to NCIS.