An in-depth examination of Tom Selleck's marriage to Jillie Mack.
Tom Selleck has been a celebrity fixture since the early 1980s. From his breakout lead role on Magnum, P.I. to his current role as the patriarch of a police family on Blue Bloods, the famously mustached actor has never been out of the spotlight. What about his other half…? Jillie Mack, Tom Selleck's wife of over 30 years, has kept a much lower profile than her Hollywood husband. We take a deep dive into this long-lasting celebrity marriage in this article.
Jillie Mack: Who Is She?
Wiltshire, England native Jillie Mack is an actress and dancer. She is best known for her minor roles in television shows such as Frasier, Silverfox, ER, Hooperman, and Selleck's own Magnum, P.I. She also played Rumpleteazer in a London production of the popular musical Cats, where she met her future husband (more on that later!).
Despite being Tom Selleck's wife, Jillie Mack, 62, prefers to keep her personal life private. Except when she's accompanying her famous husband to events and premieres, she's not a big social media user or a regular on the red carpet.
Tom and Jillie's Wedding
Jillie Mack and Tom Selleck have been married for over 30 years. They met in London in 1983, while Selleck was filming the jewel-heist film Lassiter. According to the story, Mack caught Selleck's attention while watching a performance of the musical Cats. The actor was so taken with the show that he went back to see it several times!
Selleck's Lassiter co-star, Jane Seymour, joked about the actor's newfound obsession in a 1987 interview with People. "He kept telling me how awesome Cats was," she explained. "I liked it, but I couldn't see myself going back a dozen times."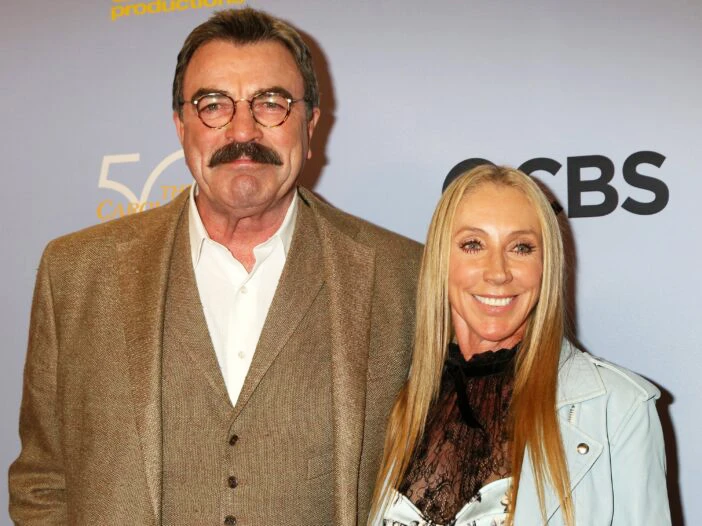 Selleck eventually asked the dancing feline out to dinner, and the two began dating. Mack moved to the United States to be with her new man after her Cats contract expired.
Four years later, in 1987, Tom Selleck surprised his fans by announcing that the couple had married in a top-secret ceremony in Lake Tahoe, Nevada. According to People, Selleck did everything he could to keep the quickie wedding from becoming public knowledge.
According to reports, all arrangements were made under the aliases "Tom Jenkins" and "Suzie Mark," and the reverend who married them was unaware of their true identity until minutes before the ceremony. Selleck even went so far as to allow only Polaroid cameras to be used at the wedding in order to prevent images from being leaked to the press.
Despite rumors in the tabloids to the contrary, Selleck and Mack are still going strong after thirty years. They live on a 65-acre ranch in Ventura, California, that they've owned since 1988. They've made it a point to be open and honest with each other every step of the way, in addition to keeping their private life out of the public eye.
In 1999, Selleck told the New York Daily News, "Jillie and I have a pretty good partnership." "We never do anything or make any decisions without first consulting with one another." And if one of us makes a decision involving [our daughter], the other parent, even if you disagree, fully supports that decision."
Do they have children?
Hannah Selleck, Tom Selleck's daughter with Jillie Mack, is their only child. Hannah, now 31, is a professional equestrian, a career that was clearly influenced by her upbringing on a ranch in California. "Because [my parents are] both artists, they believe in the idea that you have to be very passionate about what you do to be successful," she told Equestrian Living. They encouraged me to be passionate about it and immersed in it, and it was up to me how much I wanted it from there. They always let me take the initiative. It was entirely up to me whether I wanted to change barns or trainers."
Kevin, Selleck's adopted son from his first marriage, is also a celebrity.
Who was Tom's previous wife before Jillie?
Tom Selleck's wife before meeting and falling in love with Jillie Mack was Jacqueline Ray, an American actress and model. The couple married in 1971, when both Selleck and Ray were in their early twenties, and remained together until 1982. Throughout the 1970s and 1980s, Ray appeared in a number of popular TV shows, including Dallas, Matt Houston, Marcus Welby, M.D., and Magnum, P.I. Selleck and Ray divorced after more than a decade of marriage, reportedly because the actor's move to Hawaii to film Magnum P.I. kept them too far apart.
Selleck adopted Ray's son, Kevin Shepherd (later Kevin Selleck), when he was 21 years old during their 11-year marriage. Kevin, now 54, is a musician and actor who has appeared in films such as Scream 2 and television shows such as Magnum P.I. (Tom obviously enjoyed working with his family!). Despite his divorce from Ray, Tom Selleck remains close to his adopted son to this day.
Related News – Be sure to get some more news when it comes to BLUE BLOODS.