Everybody and their moms (okay, especially their moms) loves themselves some Mark Harmon. An all-American hunk (People's Sexist Man Alive, 1986) with the acting chops and charm to boot, he's been on the Hollywood radar since the 1970s, when he shied away from a career in football and started working in film and television. After a few successful big-screen outings in the 1980s, particularly as a take-it-easy teacher in 1987's low-key, high school classic Summer School, he settled into a career of seemingly never being too far gone from the small screen. Harmon has since become one of the most successful television actors of all time, having starred on the top-rated CBS military crime procedural NCIS for well over 15 years.
And yet, despite that visibility, familiarity, and effortless likability, you don't hear too much about Mark Harmon in the gossip magazines … or any other magazine for that matter. Here are some interesting stories about the man behind TV's own Leroy Jethro Gibbs.
Mark Harmon can get Nelson on the phone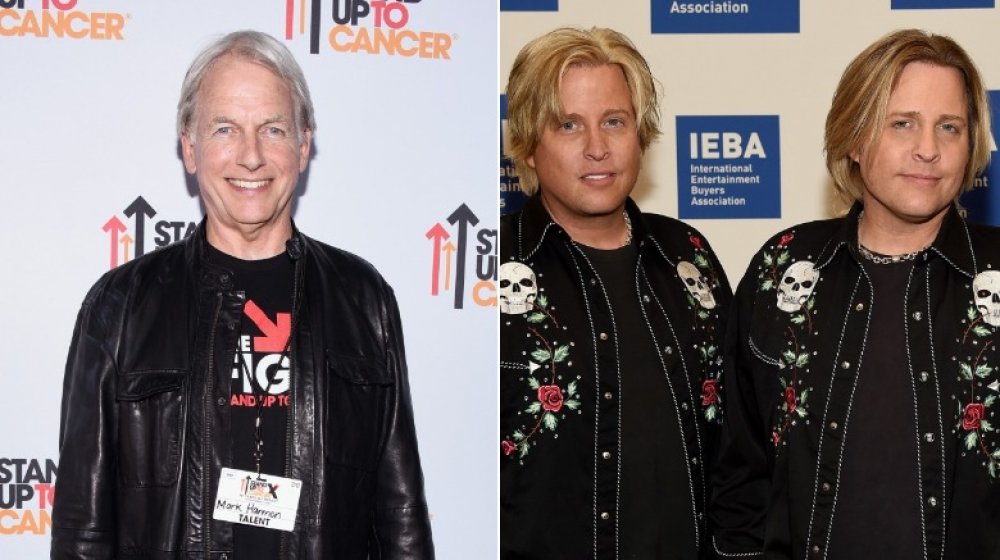 Mark Harmon didn't get to where he is just because of talent, hard work, good luck, and drive. Nepotism may have played a part, too. This actor is just one twig on a large and and important family tree that stretches throughout the entertainment history. Remember how we said Harmon possessed an "all-American" quality? Well, his father, Tom Harmon, was literally named an All-American when he played tailback at the University of Michigan. He won the 1940 Heisman Trophy and was the No. 1 pick in the 1941 NFL Draft. He eschewed a pro football career to become a fighter pilot (he was awarded a Purple Heart) and then a well-known sportscaster.
Tom Harmon's daughter, Kristin, married Rick Nelson, early rock star and actor on the squeaky-clean 1950s family sitcom, The Adventures of Ozzie & Harriet, which starred his real-life parents. Kristin and Rick had four children, one of whom is actress Tracy Nelson (she was the plucky nun on Father Dowling Mysteries), as well as Matthew and Gunnar Nelson, who were blessed with long, luxurious blond hair and the musical abilities that fueled their successful hair metal band Nelson.
Harmon's other sister, Kelly Harmon, is best known as the longtime spokesmodel for Tic-Tacs. Mark Harmon added more fame to the family in 1987, when he married actress Pam Dawber, the half of the titular couple on Mork & Mindy who wasn't a wacky alien.
Mark Harmon will no longer sell you a pair of shoes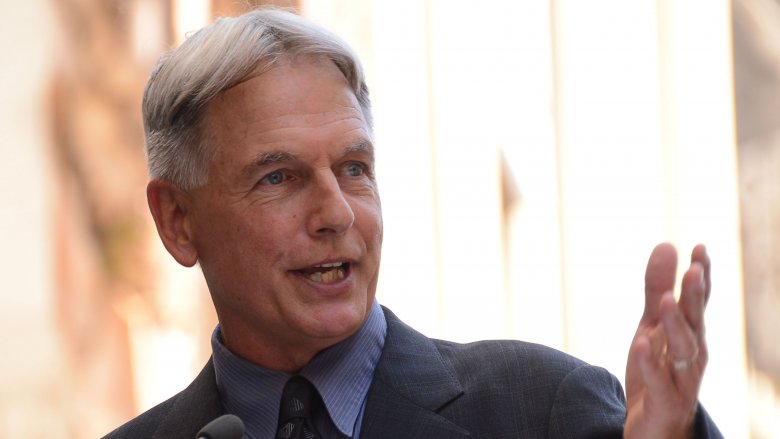 Despite being surrounded by entertainers, Mark Harmon didn't always want to be an actor. He felt the calling only after he'd tried out some other careers that he ultimately failed at and hated. When asked by a reporter from Men's Health what career he would've pursued if the whole acting thing hadn't worked out, Harmon said he'd have been a carpenter. "I tried to do that, but I just couldn't get hired," Harmon said. "I enjoyed getting up and doing that in the morning; I enjoyed the drive to work. For me it was about materials and doing right."
After that, Harmon said he moved on to what he called being a "shoe salesman," but it was a bit more involved than that: He was a national sales rep for a major shoe company. The job required a fair amount of travel, and it was then that he realized he had to get out. "I was coming back from Boston and I was sitting next to a 33-year-old who was talking about trying to make pension at 65. He was drinking his second martini by the time we were wheels up. He was miserable in his job and he was trying to maintain the job," Harmon told Men's Health. "I went home, got in my car, drove out to the place where I worked, and gave my notice."
Mark Harmon could've been a pro sports star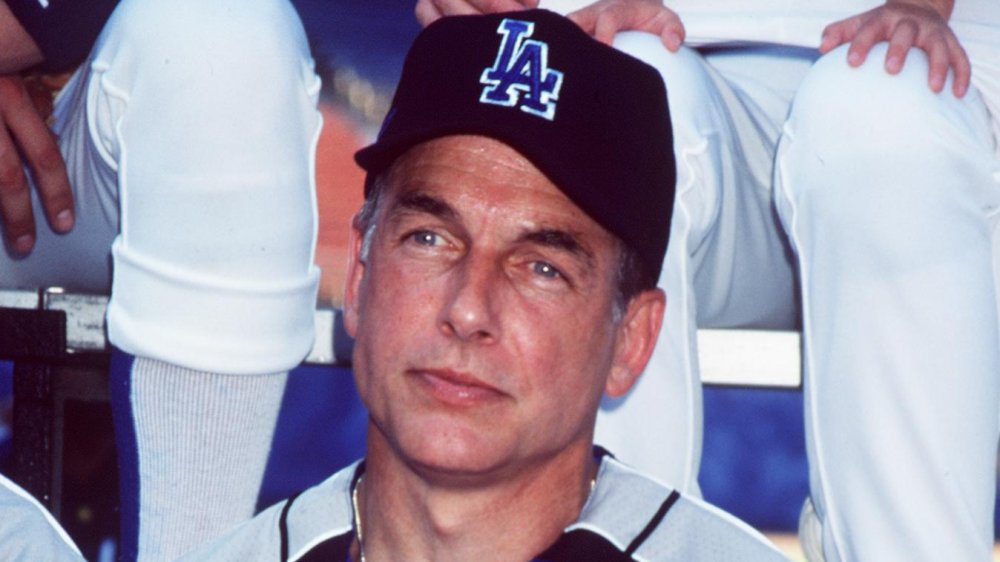 Naturally, as in how genetics are natural, Mark Harmon turned out to be a pretty good football player, just like his old man. The abilities he displayed at Pierce College in Oklahoma in the early 1970s, which could only have seemed more impressive to scouts when coming from the son of a Heisman Trophy winner, led to some high-profile offers from college squads. But Harmon turned down a spot on the title-contending University of Oklahoma football team, instead opting to play for a school that was almost literally in his backyard: UCLA. He turned out to be a real steal for the Bruins. In 1972, Harmon led UCLA to a 17-14 victory over Nebraska, breaking the Cornhuskers' unbelievable 32-game winning streak.
Harmon's squad amassed a record of 17-5 record over two seasons, and his numbers were good enough to get some interest by the pros, but he turned down offers to focus on school instead. He completed his communications degree, which, as an actor, he's actually used, unlike most people who earn a communications degree.
Mark Harmon's TV shows flopped for years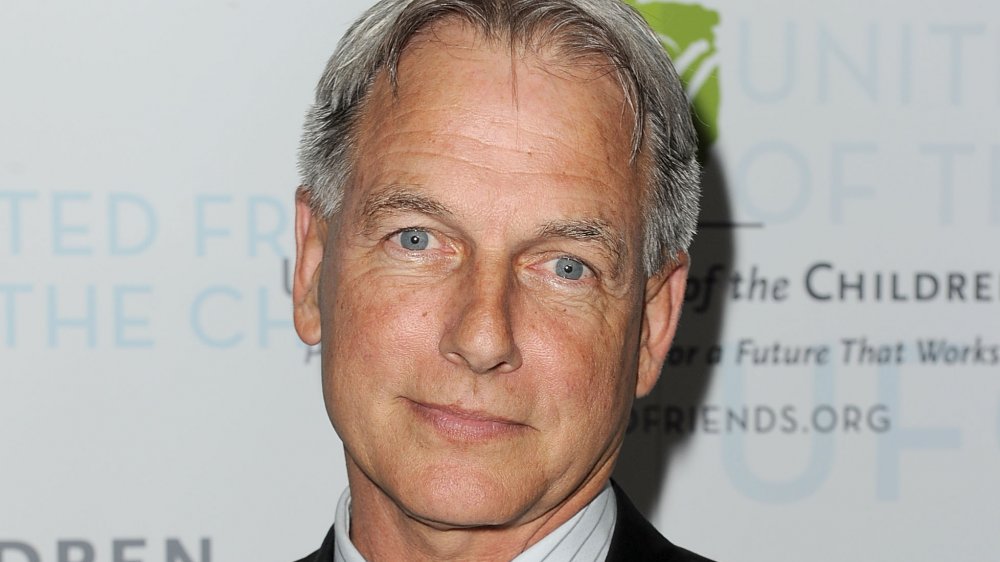 Most seasoned actors that are veterans of the venerable medium of television don't attain that status with just one hit show that lasts seemingly forever. Sure, Mark Harmon has been playing steely, extremely competent special agent Leroy Jethro Gibbs on NCIS since the first term of the George W. Bush administration, but it's kind of a "happily ever after" type of thing. Casting agents loved to book Harmon as the lead of TV shows, but his gigs up to NCIS were almost always short-lived flops.
Before his breakthrough role as Dr. Robert Caldwell on NBC's award-winning '80s ensemble medical drama, St. Elsewhere, Harmon starred as an animal control officer in a 1975 episode of Emergency! called "905-Wild," intended as a pilot for a spinoff. It wasn't picked up, but Harmon soon starred as a cop working the K-9 unit in the six-episode obscurity Sam. He moved on to portray a search-and-rescue guy for 13 episodes (in 1979 and 1980) in 240-Robert, and as a senator on the Dallas-cribbing nighttime soap Flamingo Road (1980-82). After St. Elsewhere, Harmon went elsewhere, to the little known legal drama Reasonable Doubts and the forgotten crime drama Charlie Grace.
The reason why Mark Harmon was never a movie star will make you cry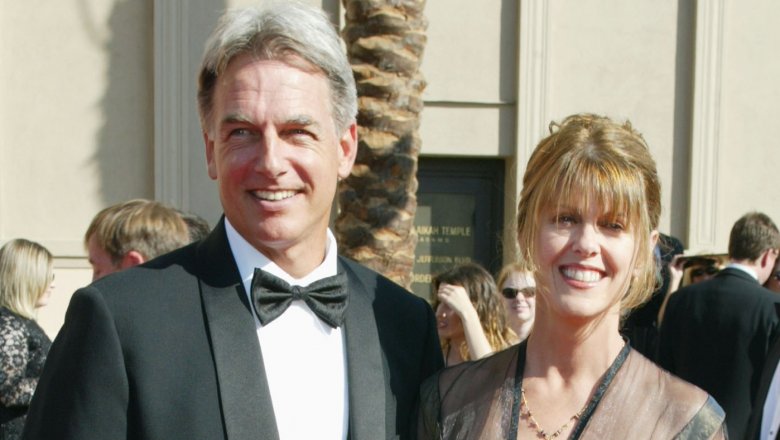 Mark Harmon has been on television fairly consistently for the better part of 40 years. So, why did he never become a big-time movie star like other former small screen actors, such as George Clooney and Will Smith? It's likely because he didn't want to, preferring the relative routine nature of television production. Movies film for a few weeks or months and might shoot anywhere in the world, requiring an actor to fly off and leave their family a few times a year. A TV series, however, is usually taped at the same studio, week after week, for about 22 weeks a year. That was preferable to Harmon, and he made his choice during an emotional moment.
A few months after Harmon's first child was born, he left his wife and baby behind to jet off to New Guinea for a movie. "And our oldest had just taken his first steps the day I left," the proud dad told CBS News in 2013. "And I came back three months later and he got out of the car by himself and walked up the sidewalk and grabbed onto my leg at the airport." In that moment, Harmon said, he decided that the big movie paychecks were not worth it if it meant he would "miss all this." Wanting to stay close to home and family meant taking on TV work produced in the Los Angeles area.
Mark Harmon almost talked his way out of Summer School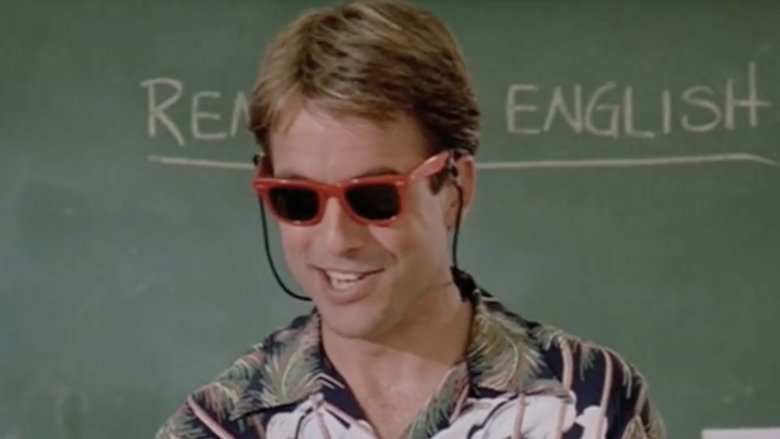 Despite deciding long ago to focus on television, Mark Harmon did star in a few major movies, including 1987's Summer School, a silly, school-set comedy in which Harmon played a cool teacher (he wore Hawaiian shirts and liked to surf!) named Mr. Shoop, tasked with helping a motley crew of high school flunkies from flunking out, all while trying to romance a coworker played by Kirstie Alley. It's one of Harmon's only real film successes, and to think that he almost didn't get the gig because he actively tried to talk the director out of hiring him.
Almost improbably, Summer School was helmed by a comedy legend: Carl Reiner, creator of The Dick Van Dyke Show and director of Steve Martin's The Jerk. If anybody has comedy instincts and can tell if an actor will or will not be funny on the screen, it's Reiner, and he pursued Harmon for the lead in Summer School. Harmon, in turn, rejected his advances. He told The Daily Beast in 2014 that he tried to get Reiner to instead cast Tom Hanks because, as Harmon claims, "I'm not funny!"
This one time Mark Harmon saved a kid's life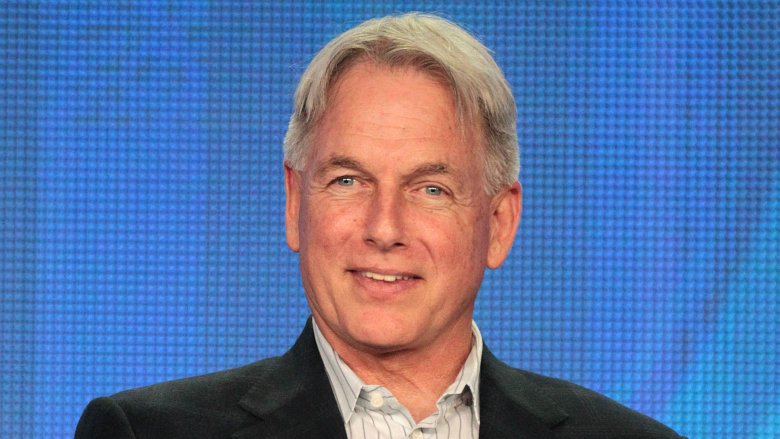 It's no secret that Mark Harmon acts on a TV show where good guys save the day week after week — but he's apparently a method actor, applying real-life situations to his work. This is all to say that about 20 years ago, Harmon saved a kid from dying in a horrific, fiery car wreck. In January 1996, two teenagers got into a nasty car accident very close to Harmon's Los Angeles home. One of the young people crawled out of the vehicle on their own accord, but the other, Colin Specht, was hopelessly trapped in the burning automobile. Well, maybe not so hopelessly, because Harmon approached the flaming wreckage with a sledgehammer, smashed a window with it, and pulled Specht to freedom … but not quite safety.
"He was full fire on his back," Harmon later told CBS News. So, the actor "put him down and got on top of him" and smothered out the flames. Specht was severely burned, but ultimately made a full recovery and went on to become a personal trainer in the L.A. area.
Mark Harmon got his boss fired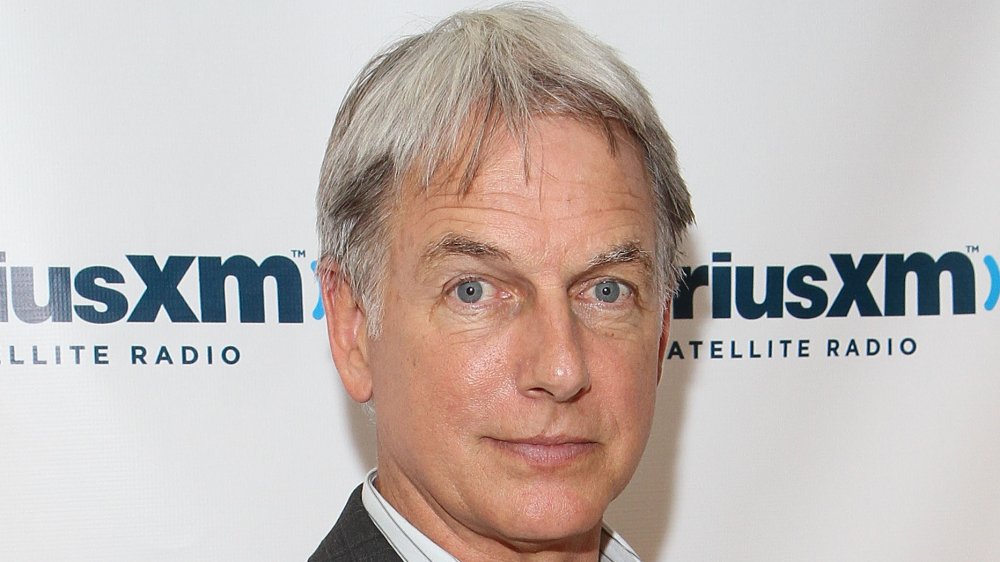 It's been running for so long now — and generated so many spinoffs of its own — that it's easy to forget that NCIS was itself a spinoff. It began life in 2003 as a show called Navy NCIS, and it spewed forth from CBS' military legal drama JAG. Both hit shows were created by prolific TV writer Donald P. Bellisario, who also came up with Quantum Leap and Magnum, P.I. Nevertheless, all those resumé points couldn't save Bellisario's job from the wrath of Mark Harmon.
In 2007, Michael Ausiello of TV Guide reported that Harmon couldn't tolerate the work culture at NCIS under Bellisario's command, or what a show insider called a "chaotic management style." The show's lead actor resented routinely working 16-hour days, as well as Bellisario's tendency to "micro-manage everything" and not finish script pages until the last minute. In this battle of star vs. showrunner, the star won. Bellisario resigned from his position on his own show.
Let's play the feud!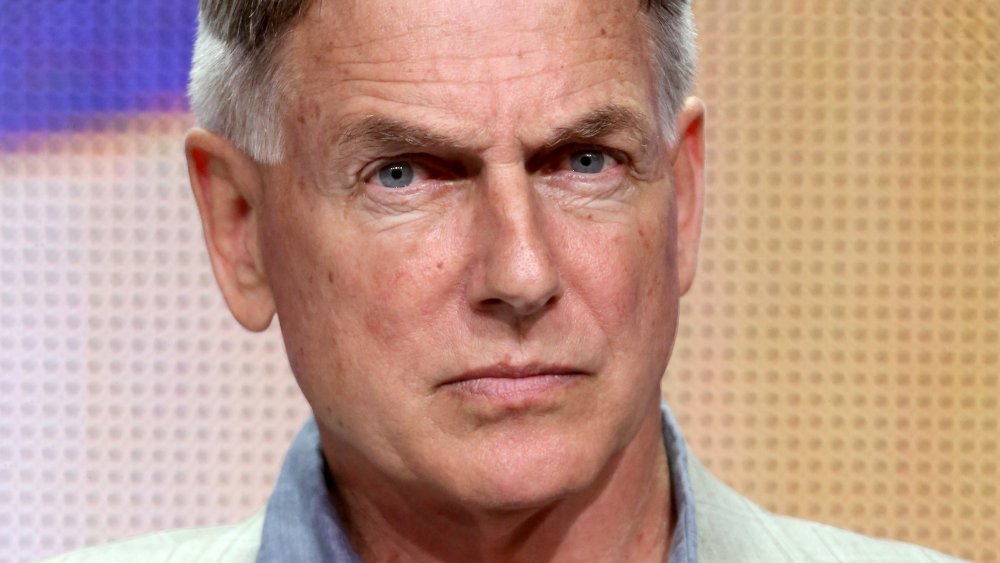 Mark Harmon's sister, Kristin Harmon, died suddenly from a heart attack in April 2018 at age 72. While an actress and painter, she was best known for her personal life — she was wife to Rick Nelson (they married in 1963 when she was just 18 and three months pregnant) and mother of the Nelson twins and actress Tracy Nelson. Through it all, Kristin told People, she and her husband "were hippie rock 'n' rollers," by which she meant they both had drug problems. She filed for divorce in 1980 and received custody of their four kids (including Sam, born in 1974). However, she continued to drink and do drugs, and Sam was shuffled around relatives' homes, staying with her sister, Kelly, on afternoons and Saturdays, as well as living with his grandparents for a year and a half before ultimately moving in with Mark Harmon and Pam Dawber.
When Rick Nelson died in a 1985 plane crash, Kristin Harmon said her drug use got way out of hand, and her brother successfully urged her to enter rehab. When she got out in 1987, Kristin learned that Harmon was suing her for custody of 12-year-old Sam Nelson. A judge granted it, but only temporarily, along with a restraining order against Kristin. A nasty family battle ensued, which only ended when the NCIS actor called it off. Sam's mother and uncle reached an agreement: Kristin got custody, and Harmon got visitation rights.
Mark Harmony might've been part of the reason why Abby left NCIS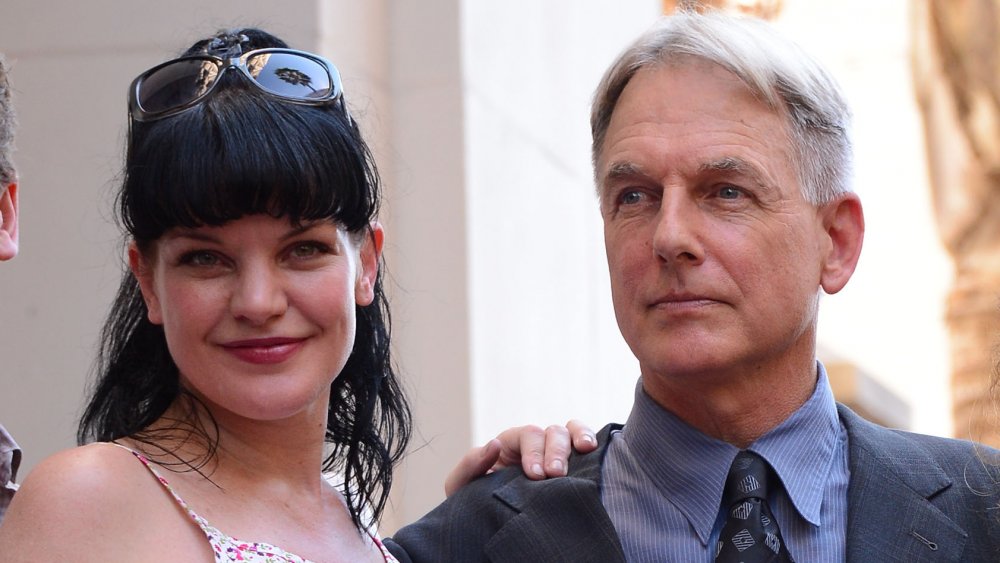 In 2018, Pauley Perrette left NCIS after more than 350 episodes as fan-favorite forensic scientist Abby Sciuto. While the situation initially seemed like an actress ready to move on, that wasn't quite the case, or at least not entirely. After her last episode aired, Perrette tweeted the alarming news that she'd endured "multiple physical assaults" on set.
Perrette didn't feel safe at work, from those alleged incidents as well as the time Mark Harmon allegedly brought in his pit bull, Dave, in October 2016. According to sources that spoke with Radar Online, Dave reportedly bit a member of the crew with such ferocity that the poor tech had to get 16 stitches. The insiders claimed that Harmon was "obviously horrified" and left Dave at home after that … until one occasion when his dog sitter plans fell through.
Harmon allegedly arranged for the dog to hang out in his trailer all day, and the cast and crew were reportedly fine with that, except for Perrette. The on-set source alleged that Perrette was "furious" that the potentially dangerous doggo was back on set and "refused to listen" and "started shouting" when Harmon tried to explain the situation. She then reportedly wouldn't shoot any scenes with Harmon and allegedly wouldn't even sit near him at a table read, giving him the silent treatment whenever he tried to talk to her.
The real reason why Mark Harmon's character on The West Wing died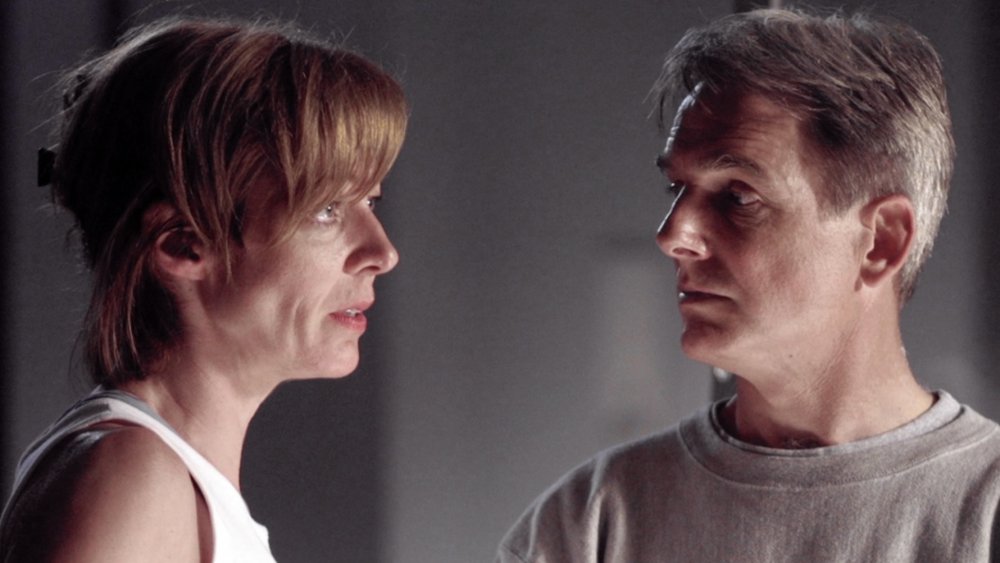 Way back in 2002, about a year before he began his long stint portraying Leroy Jethro Gibbs on NCIS, Mark Harmon had a role on another highly-watched broadcast TV drama with a loyal fan base: NBC's presidency saga The West Wing. Harmon appears in the final four episodes of the series' third season as Simon Donovan, a Secret Service agent assigned to protect White House press secretary C.J. Cregg (Allison Janney) after she receives death threats. That professional relationship quickly develops into a personal one, as romantic sparks fly between C.J. and Simon. But this love was not to be: In the third season finale, Simon is shot and killed while attempting to stop an armed robbery in a New York bodega.
Fans of The West Wing and Harmon were left brokenhearted, and so were some members of the show's crew. "When setting Mark up for his last scene, the women placed the squibs in his suit were quick to point out to me that they'd put them in places where he could survive," The West Wing creator Aaron Sorkin told The Hollywood Reporter in 2014. "And they let me know if I didn't want my tires slashed he'd survive." Sorkin refused to give in to the crew members' request to let Simon live and Harmon stick around, saying, "Things in stories have to happen for a reason."
Mark Harmon's attempt to star in another drama series didn't work out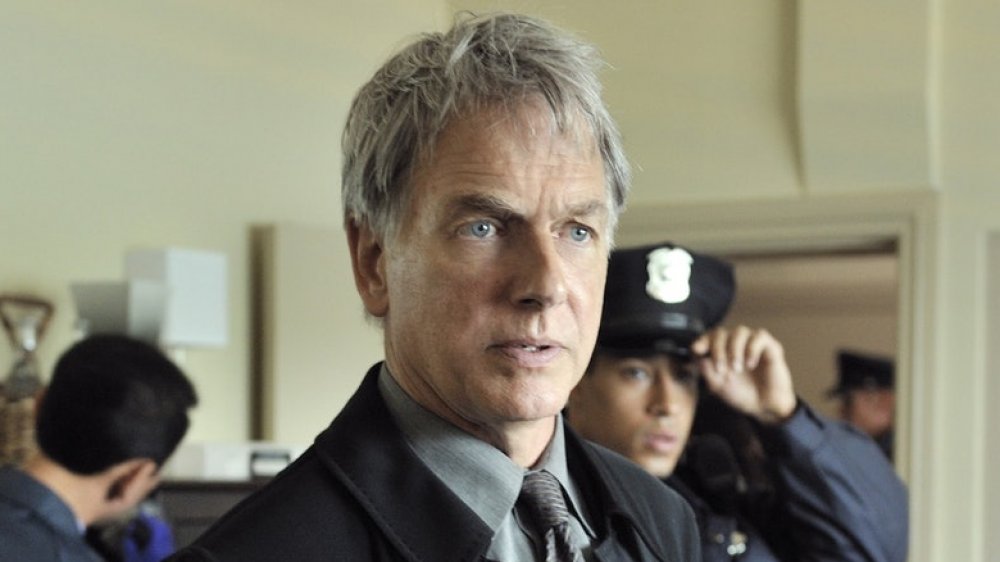 In November 2011, the USA network interrupted its regularly scheduled programming of reruns of Mark Harmon's NCIS to air Certain Prey, a made-for-TV movie starring the series' own, well, Mark Harmon. It was based on one of author John Sandford's Prey crime novels (of which there are more than 20) about Minneapolis deputy police chief Lucas Davenport.
According to The New York Times, it seemed as if USA was looking for a recurring crime movie franchise fronted by a bankable, popular TV star — similarly to how CBS had installed Magnum, P.I. and Blue Bloods star Tom Selleck in its Jesse Stone franchise. But this side project turned out to be a one-hit wonder for USA, as no more Prey movies with Harmon playing Lucas Davenport were ever produced. (In fact, the 2011 flick marked the last time Harmon portrayed anyone onscreen besides his NCIS character, Leroy Jethro Gibbs.) However, in late 2018, CBS announced that it would revive the Prey concept (via The Hollywood Reporter), with Harmon again on board — this time as an executive producer.