NCIS: LOS ANGELES season 12 is on its way to CBS and Marty Deeks star Eric Christian Olsen has sent excitement levels sky-high among fans with a first-look snap with Kensi Blye's Daniela Ruah from their return to filming.
CBS viewers and NCIS: LA fans have been waiting months for news on the next season of the crime drama after the coronavirus pandemic brought a halt to production earlier this year. And while the US network's fall schedule meant the Los Angeles-based spin-off would be pushed back until later in the year, it looks like the cast and crew are back filming and working hard to get new episodes on-screen thanks to a sneak peek from Eric Christian Olsen – who plays Marty Deeks.
The season 11 finale left NCIS: LA fans on tenterhooks when it exploded onto CBS earlier this year.
Not only did fans welcome back NCIS legend Sarah 'Mac' Mackenzie (played by Catherine Bell), but there was an almighty twist involving Officer Thomas Argento (Juan Riedinger).
However, that was way back in April and with the COVID-19 outbreak bringing a global lockdown and halt to television productions, no one has been able to gauge what lies ahead for the likes of Deeks and Kensi (Daniela Ruah).
Therefore, a behind the scenes snap between the two aforementioned stars was enough to send fans into meltdown.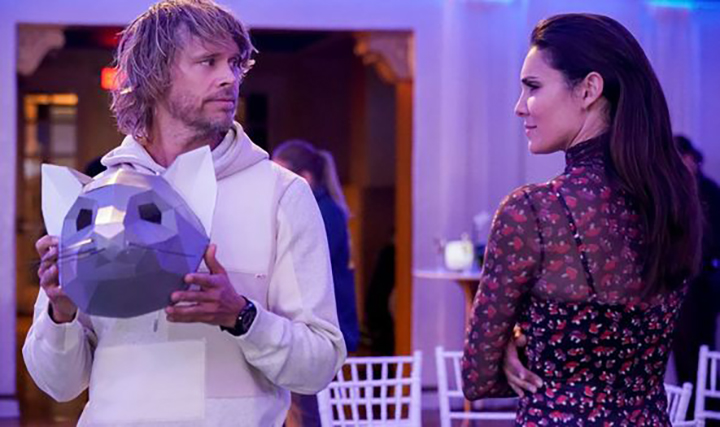 Taking to Instagram, actor Olsen shared a photo alongside his on-screen other half.
Both Olsen and Ruah don their face masks for the snap as strict COVID guidelines are now implemented on the set.
"BACK AT IT. #NCISLA," Olsen captioned the Instagram post – and it didn't take long for excited fans to flood the comments section with their messages.
One fan replied: "Love to see you guys back. I need my NCISLA fix (new eps) Stay safe!!!"
A second weighed in: "This is a great news. Welcome back. Stay safe."
"Yay!!! So excited for you guys! #Densi," said a third, while a fourth added: "This made my whole crappy week with it!! Welcome back!"
Another NCIS fan commented: "This makes me happy. I do not like Deeksless eps.
"Heck, let's be honest I don't like Deeks lite eps either," they added.
This isn't the first time Olsen has sent fans into a frenzy with season 12 hints via his Instagram page.
Earlier this year, he shared another photo of him in character as Deeks alongside Kensi.
The pair were smooching Hetty Lange (Linda Hunt) during their wedding day in season 10.
Alongside the snap, Olsen had captioned: "More of this in season 12."
With so much speculation surrounding Hetty's future, it appears she'll be back alongside the pair if Olsen's hint is anything to go by.
But what will lie ahead for Hetty and the rest of the crew?
Fans will have to wait until later this year to find out once and for all?
Related News – Be sure to get some more news when it comes to NCIS.