NCIS: LOS ANGELES star Daniela Ruah has admitted that one of the sweetest moments her character Kensi shared with Renée Felice Smith's Nell was completely improvised by the two.
The cast of NCIS: Los Angeles have been acting together on screen for over a decade now, and some of their real-life connections have found their way onto the show. In the most recent episodes, Kensi (played by Daniela Ruah) and Nell (Renée Felice Smith) have managed to get close again as Nell is filling in as MIA operations manager.
In a recent interview, Ruah opened up about her relationship with her co-star and some special moments the two shared together on screen.
"Nell and Kensi have a very good, special relationship, much like I have with Renée in real life," she said.
The actress admitted: "She's probably one of my favourite people. She's just so likeable."
"And the amount of talent, both in character and as a person, that comes out of her is astounding."
Talking about getting to spend time together on screen, she said she "loved" it and went on to describe a special scene the two filmed together.
"I think it was [the Season 4 episode] K1ll House, we had this big shootout and at the end, I put my arm around her, we walk off camera, that was improv.
"That's just the relationship we have. There's a sweetness between us.
"I just love her. I literally could not tell you enough good things about that girl," said Ruah in an interview with TV Insider.
When Kensi isn't spending time with Nell though, she still has a lot on her plate.
Season 12 has seen all the team deal with some big changes both professionally and personally.
Kensi and his husband Deeks (Eric Christian Olsen) are trying to plan their future and have kids.
But Deeks current job situation is throwing a spanner in the works as his liaison position was terminated leaving him unemployed.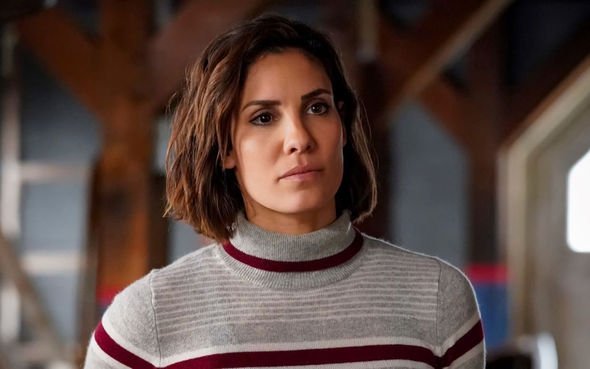 While the couple started talking about selling their precious bar, the situation swiftly resolved itself.
Operations Manager Hetty Lange (Linda Hunt) stepped in and signed Deeks up to train at the NCIS Academy so he could become a full-time agent.
As the couple is taking practical steps to get pregnant, in the latest episode to air they were seen taking fertility tests.
In one scene, Kensi was holding up a needle with Deeks looking squeamish, stating how he doesn't like them and that he didn't want to hurt her.
Kensi sweetly replied: "Honey, listen… You can not think of this as something that causes me pain. You have to think of this as you helping us, hopefully, have a child."
He reluctantly agreed before saying: "You know that I love you no matter what, right? Which means I am going to embrace anything and everything that is out of our control."
"But this I do have control over and I'm a little worried I'm gonna mess it up because I get fainty around needles," he added.
To find out whether and when Kensi will get pregnant, fans will have to catch the newest episodes of the show.
Related News – Be sure to get some more news when it comes to NCIS.