CBS is finally opening up about Pauley Perrette's bombshell claims about NCIS star Mark Harmon. A few months ago, Perrette blasted Harmon on Twitter, accusing him of physically assaulting her on the set of NCIS prior to her exit. While Harmon has yet to respond to the allegations, CBS president Kelly Kahl talked about the situation during the Television Critics Association press tour.
What did CBS say about Pauley Perrette's claims?
In her press tour interview, Kahl was asked about Perrette's accusations against Harmon, who still stars on NCIS and is an acting producer on the network. According to TV Insider, Kahl refused to comment directly on the accusations, but she did say that Perrette came to the network with several complaints.
Kahl assured fans that CBS launched a full investigation into the matter and resolved the issue to the satisfaction of everyone involved, including Perrette. The allegations were made several years ago, which would have been right before Perrette left NCIS.
"I can't speak to what she's addressing in her tweet," Kahl shared. "She did come to us a couple years ago with a workplace concern. We immediately investigated it and we resolved it to everyone's satisfaction."
#VEGAS https://t.co/Be8uWCnvY3 Exactly What Happened Between Mark Harmon and Pauley Perrette on NCIS?— flyer delivery vegas (@flyer_vegas) August 1, 2019
Back in June, Pauley Perrette set Twitter on fire after several fans asked if she would ever return to NCIS and reprise her role as Abby Sciuto. In response to the questions, Perrette said that she would never return to the show because she is still "terrified of Harmon," whom she says assaulted her on set.
She followed that up with a photo of a crew member who was allegedly attacked by Harmon's dog. The image showed a man with several stitches around his eye. Perrette then explained how she stood up for her crew and was fired because of it. The accusations came roughly a year after Pauley Perrette left the show over a rumored feud with Harmon.
Inside Pauley Perrette and Mark Harmon's feud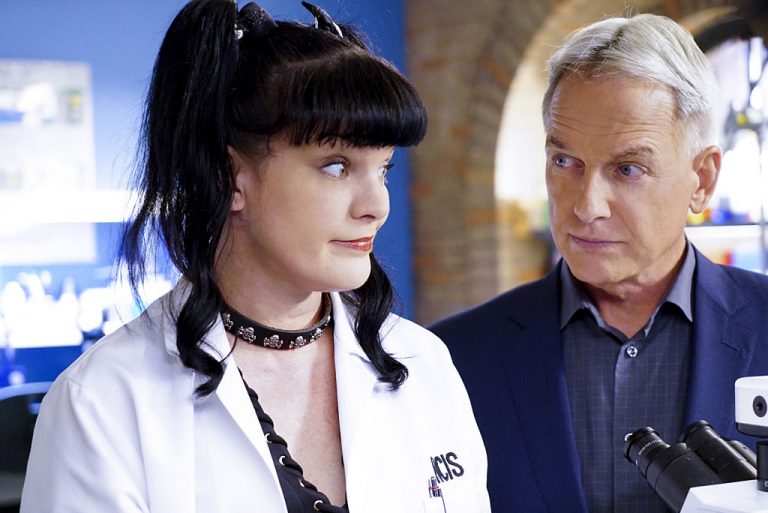 Perrette announced her departure from NCIS during Season 15. Perrette's exit came amid rumors of a growing feud between her and Harmon. Their beef alleged started after Harmon brought his pet dog to the set of NCIS. The dog reportedly got aggressive and bit a crew member, who had to seek medical treatment as a result of his injuries.
Pauley Perrette complained about the incident to CBS, who stepped in and handled the matter. Kahl's comments alluded to the dog incident, but from the network's perspective, they dealt with the issue without further escalation.
'NCIS' Star Mark Harmon Allegedly Body Checked Pauley Perrette https://t.co/aRmrtKuP6x via @TMZ— mike lee (@mike_cougar) August 1, 2019
The Broke star, however, feels differently about how things played out. The actress, who starred on the show since the very beginning, claims that Harmon continued to bully her on the set and was not happy about her complaints. She also says that Harmon physically intimidated her, which is where the assault allegations come into play.
Unfortunately, Perrette has not offered any evidence to back up her claims, so it is difficult to say who is telling the truth. Harmon has also remained mum on the matter, which has not helped resolve the scandal.
How does Pauley Perrette feel about CBS?
What is curious about the entire situation is that Perrette has always been positive about her interactions with CBS. In May of last year, Perrette took to Twitter to thank the network for always treating her well and supporting her through the years. This seems to contradict her statements about how Harmon treated her on set.
After all, if her co-star was bullying her and she complained to the network, why would she still think positively of them if they did not handle the situation properly?
"I want to thank my studio and network CBS," Perrette wrote. "They have always been so good to me and always had my back."
Unless more information is revealed, it will be difficult to tell what really happened between Perrette and Harmon. Considering her recent activity on social media, it is unlikely that the two will ever sit down and resolve their differences. This is a real shame for NCIS fans and pretty much ends any chance of Perrette returning to the show for one last go.
Pauley Perrette has not responded to Kahl's comment during the press tour. The actress is currently getting ready for the premiere of her new comedy on CBS, titled Broke. Given how Perrette is still with the network, Kahl does not believe that her concerns about Harmon are that serious. Broke is set to premiere on Sept. 23.
Related News – Be sure to get some more news when it comes to NCIS.