This week, NCIS took a break and aired a rerun titled "Pledge of Allegiance," the season's 10th episode. However, new episodes are still on the way before Season 19 concludes. How many episodes of the military drama are left before it goes on hiatus..?
'NCIS' Season 19 will consist of 21 episodes.
The last new episode of NCIS aired on CBS on Monday, May 2, with "The Brat Back." Cay Ryan Murray, Sean Murray's (Tim McGee) real-life daughter, made her NCIS debut as a guest star in that episode, the 19th of the season.
Season 19 will consist of 21 episodes, which means there will be two new episodes airing before the summer break. The next episode will air on Monday, May 16, with the season finale on Monday, May 23.
The finale will reportedly center on Agent Alden Parker (Gary Cole). He is about to be framed for murd3r, which brings The Fosters alum Teri Polo into the picture. Former FBI Agent Vivian Kolchak has been cast as Parker's ex-wife. Vivian will be a recurring character next season in addition to appearing in the season finale.
In terms of total viewers, NCIS was the highest-rated program on CBS during the 2021-22 broadcast TV season. It beat out FBI, Blue Bloods, The Equalizer, Young Sheldon, and Good Sam, according to TVLine.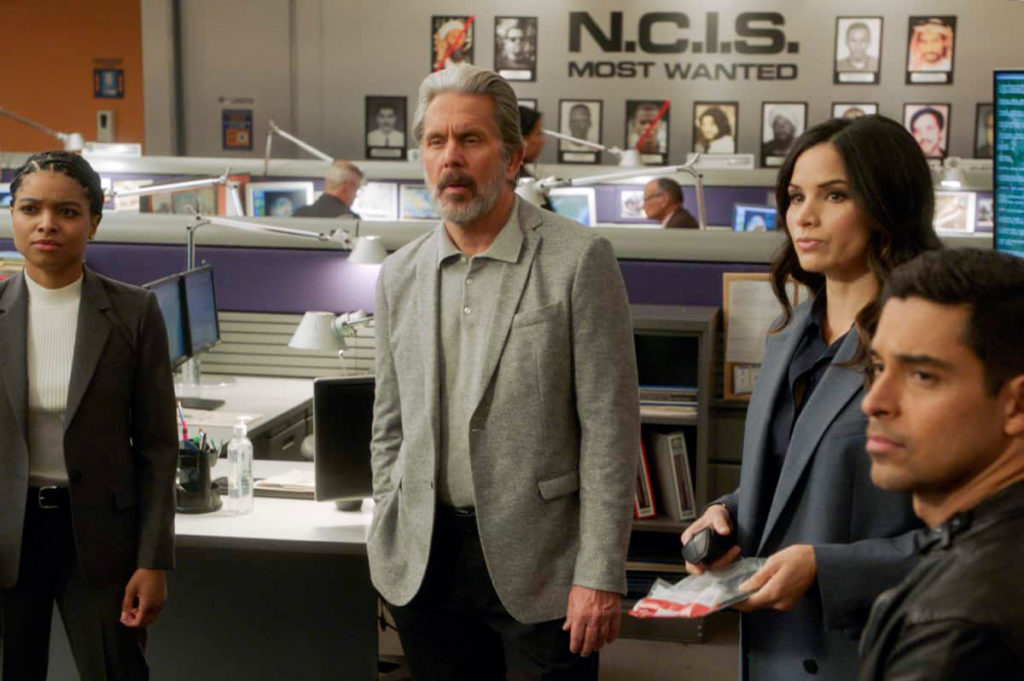 The 'NCIS' spinoffs are also nearing the end of their runs.
NCIS: Los Angeles has two episodes remaining, with the penultimate episode airing on Sunday, May 15, and the finale on Sunday, May 22. The penultimate episode of NCIS: Hawai'i will air on Monday, May 16. The season finale will be held on May 23.
Every NCIS show has been renewed for the 2022-23 broadcast season. NCIS will return for its historic 20th season, making it the third longest-running drama in television history. Only Law & Order and Law & Order: SVU have had longer runs.
NCIS: Los Angeles will return for a 14th season, while NCIS: Hawai'i will get a second season.
In May, CBS will air one series finale.
CBS has several season finales and one series finale scheduled to air over the next few weeks. Bull, starring NCIS veteran Michael Weatherly as Dr. Jason Bull, was canceled after six seasons.
The season finale will air on Thursday, May 26. Does this mean he'll be back on NCIS next season? Fans will have to wait and see what happens. The rest of the CBS finale schedule appears to be as follows:
Sunday, May 15 — The Equalizer Season 2
Wednesday, May 18 — Beyond the Edge Season 1
Thursday, May 19 — Young Sheldon Season 5/United States of Al Season 2
Sunday, May 22 — NCIS: Los Angeles Season 13/S.W.A.T. Season 5
Monday, May 23 — The Neighborhood Season 4/Bob Hearts Abishola Season 3/NCIS season 19/NCIS: Hawai'i season 1
Tuesday, May 24 — FBI Season 4/FBI: International Season 1/FBI: Most Wanted Season 3
Wednesday, May 25 — Survivor Season 42
Related News – Be sure to get some more news when it comes to NCIS.