Blue Bloods, CBS' long-running cop drama, is due to end with its upcoming 14th season, which will feature an extended farewell of 18 episodes.
The first ten episodes will air on CBS and Paramount+ on February 16, with the final eight episodes following in the fall of 2024. This move follows a decrease in the length of scripted seasons as a result of recent Hollywood strikes.
With prolonged final seasons, the network hopes to deliver fitting sendoffs to two of its finishing programs, Blue Bloods and Young Sheldon. The last season of Young Sheldon will have 14 episodes.
Blue Bloods, the long-running CBS drama about the Reagan family's career in police enforcement, is coming to an end. It was the most-watched program last season and has continuously won its time slot since 2010.
CBS Entertainment President Amy Reisenbach and CBS Studios President David Stapf issued a joint statement thanking Blue Bloods for its historic legacy.
They paid tribute to the show's star and executive producer, Tom Selleck, as well as the late executive producer Leonard Goldberg and longtime writer/executive producer Kevin Wade.
The message also emphasized the historic Reagan family Sunday supper, which is a recurring subject in each episode.
CBS Entertainment President Amy Reisenbach and CBS Studios President David Stapf issued a brief statement thanking the late Leonard Goldberg for creating Blue Bloods and praising the ensemble, led by Tom Selleck.
They also thanked the writing and production staff, particularly executive producer Kevin Wade, and predicted that the upcoming season would be the most fulfilling for fans.
The renewal of Blue Bloods for Season 14 featured difficult talks, as CBS demanded a 25% budget decrease, resulting in wage cutbacks for the cast. Despite these obstacles, the performers and producers consented to the cuts in order to keep the program running and to assist the crew. According to sources, Season 14 will most likely be the series' final season.
When the Blue Bloods writers reconvened in October after the WGA strike, they viewed the season as a possible conclusion. The decision to discontinue the series was made following the SAG-AFTRA strike, which determined the size of the season and led to the notion of breaking it into two parts.
Blue Bloods has 293 episodes in its 14-season run, making it one of CBS's top 10 longest-running scripted shows. Donnie Wahlberg, Bridget Moynahan, Will Estes, Len Cariou, Marisa Ramirez, and Vanessa Ray round out the cast, which is led by Tom Selleck.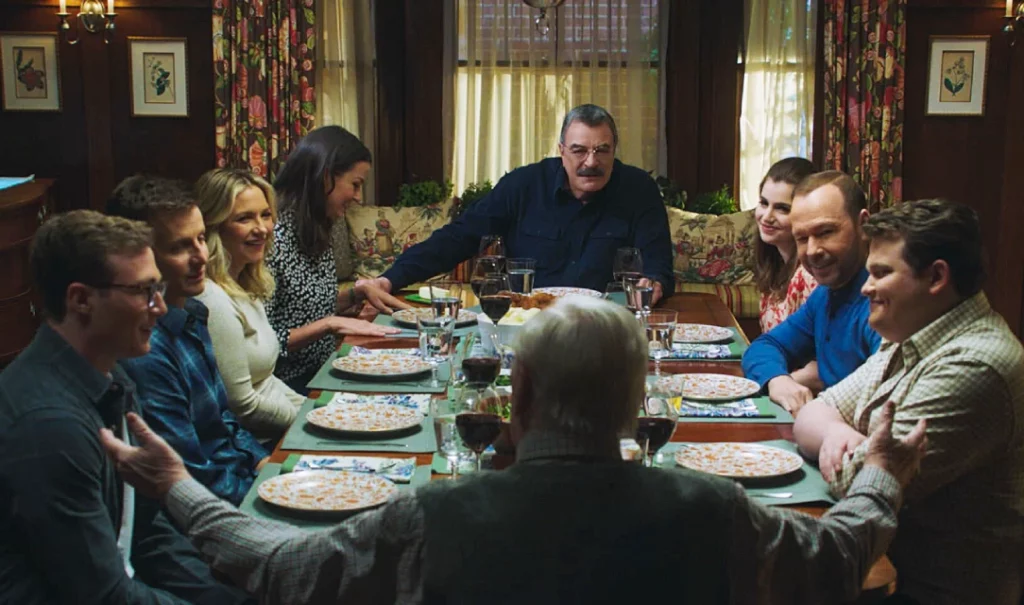 Tom Selleck expressed thanks for his 13-year run on Blue Bloods, praising the show's celebration of New York City's guardians and the family theme. The cast and crew made it a dream experience with over 275 episodes. Selleck congratulated CBS Studios and CBS Network, as well as the devoted Friday night viewers.
Blue Bloods is a Paramount+ top ten series in terms of minutes watched and a valuable asset for CBS, performing well in CBS broadcasts, streaming (including Netflix), syndication, and international markets.
Blue Bloods executive producer Kevin Wade expressed thanks for the 13-year journey, recognizing Leonard Goldberg's vision for a multigenerational police procedural focused on family loyalty. The excellent cast, clever writers, and dedicated crew are responsible for the show's long legacy.
Wade expressed gratitude to CBS Studios and the CBS Television Network for their constant support and partnership in developing multi-layered storytelling. The team is excited to give an exciting and emotionally rewarding last season, and they are eternally grateful to the fans for their passion and commitment over the years.
Related News – Be sure to get some more news when it comes to BLUE BLOODS.