Vanessa Ray of BLUE BLOODS took to social media to share an exciting project she and several co-stars worked on.
On Blue Bloods, 'Eddie' Marie Janko-Reagan (played by Vanessa Ray) is a long-serving Police Officer in the New York City Police Department. The officer's actress has revealed that the show isn't all work and no play, as some of the cast let their hair down in a nostalgic music video. It wasn't without its emotional twists, though.
New Kids On The Block enlisted the help of several friends to promote their upcoming tour by recreating iconic 1980s pop videos.
Their Mixtape Tour 2022 kicks off in June of this year, and to help them spread the word, some of the Blue Bloods cast dressed up and rocked out.
Ray lived her best 80s life in the Bring Back The Time (featuring Salt-N-Pepa, Rick Astley, and En Vogue) official video remake, assisting her Blue Bloods co-star Donnie Wahlberg.
The 40-year-old actress told her 596,000 Instagram followers about the project in a series of Instagram Stories.
"A huge congrats @donniewahlberg and @nkotb for bringing this joy to my life," she captioned the post.
She admitted that her emotions quickly boiled over, adding, "I cried the first time Donnie showed us the final project," followed by a heart emoji.
Since its release on March 3, the video has received over 873,500 views on the band's official YouTube channel.
She also shared a few behind-the-scenes clips from the filming day.
"@jillianbell got to come along, and of course she found a dog (lumpy)," she added.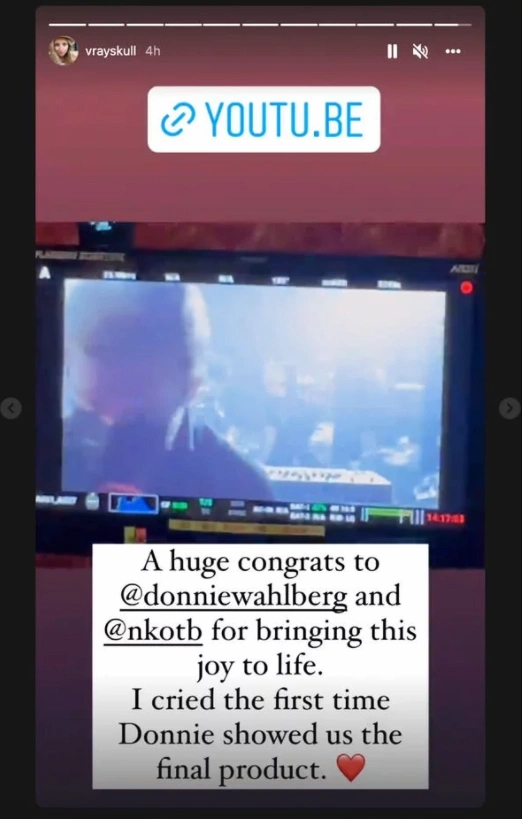 She also shared a photo of herself and Blue Bloods star Marisa Ramirez dressed in matching red and black club kid outfits.
She captioned a photo of herself getting her make-up done on set, "Fitting that my first attempt at being a vixen I wear: A TRASH BAG."
The amusing spoof video pays tribute to Journey's Separate Ways, A Flock of Seagulls' I Ran (So Far Away), Robert Palmer's Addicted to Love, Devo's Whip It, Toni Basil's Mickey, and other songs.
Ralph McDaniels, the host of New York City's Video Music Box, introduces the video.
In an interview with Billboard, Wahlberg stated: "This video, as amusing and silly as it is, is a true celebration of the music, fashion, and videos of the time.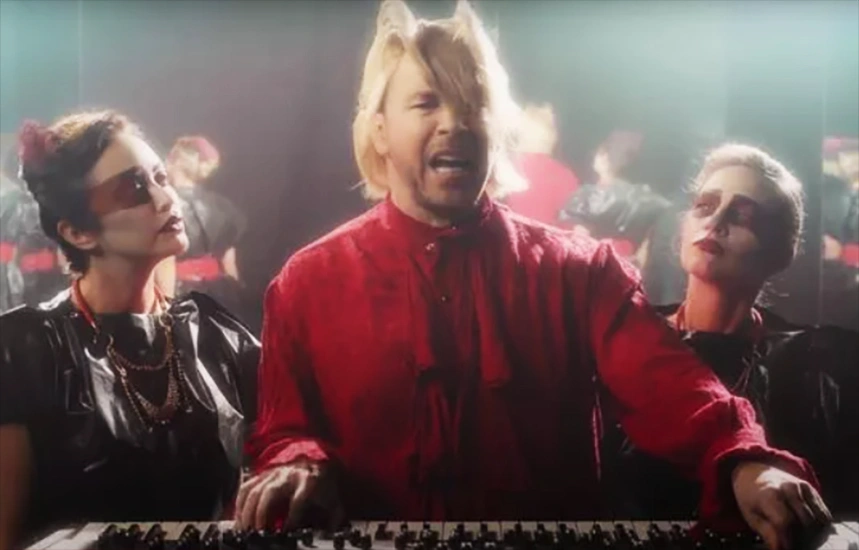 "That's when we and our fans first met. That's when we'd go outside and count the stars in the sky. We made a life-long promise back then that we would always be their band, they would always be our fans, and this relationship would last forever.
"It sounds corny, but it's true. I think it's so much fun to celebrate all of our years together because we still have that relationship [with the fans]."
Loyal fans of the band as well as general music fans have expressed their appreciation for the comedy video.
Scenic Fights made the following comment on the YouTube video: "A collaboration I had no idea I wanted. I'm pleasantly surprised by how good the song and video are. With all of the music video references, it's a love letter to the 1980s."
"THIS was exactly what we needed right now! All of the nostalgia and good vibes! Please, more of this!" Travis stated.
Shannon Smyth, a devoted follower, added: "It's fantastic. I particularly enjoy the scenes in which everyone is clearly trying not to laugh. PS. I still have that NKOTB poster from when I was a teenager in a memory box in my closet!"
Related News – Be sure to get some more news when it comes to BLUE BLOODS.